How to buy goods in the online store Aliexpress and not get in a trouble
How does AliExpress work?
AliExpress is one of the largest Chinese B2C (business to client) platform. Only an approved manufacturer of goods or seller can trade in their virtual store on AliExpress.com. There is a huge catalog of products on AliExpress, there are products from well-known brands Samsung, Xiaomi, Philips, Huawei, Sony, Lenovo, Panasonic and others. The buyer has the opportunity to compare products at a price, choose products suitable for all criteria. Most goods are delivered free of charge. The buyer has the opportunity to choose fast delivery for an additional fee.
But not always the ordered product comes in good quality or differs from the product that is presented in the seller's online store. Some sellers engage in fraud, sell products not good enough quality or hide some properties of the goods. There are times when sellers do not send goods and provide buyers with fake tracking numbers. The buyer is waiting for the goods and as a result is left without money and without a purchase. Of course, AliExpress fights with such scammers, deletes such stores and returns the money for the purchase. But time is lost, the purchase is not received, the mood is spoiled.
But not everything is as bad as it seems. There are very few such cases and you should not be afraid and refuse to buy on AliExpress.
AliExpress Benefits
What is the difference between AliExpress and other Chinese online stores, what are it's main advantages:
Large selection of goods;
Low price;
Money back guarantee;
Worldwide shipping;
A huge number of payment methods;
Free shipping on most items;
Different types of delivery (regular, express).
How to start buying on AliExpress?
First you need to create an account on AliExpress.com. If you are already registered, then you can skip this section. Visit AliExpress.com website and in the upper right corner click Account > Join. For quick registration, you can use one of the social network accounts. We recommend that you save your login information in your browser so that the next time you do not have to enter your login and password. If you did everything correctly, then you will receive an email to confirm your email address. After confirmation, your account will be ready and you can start buying products on AliExpress.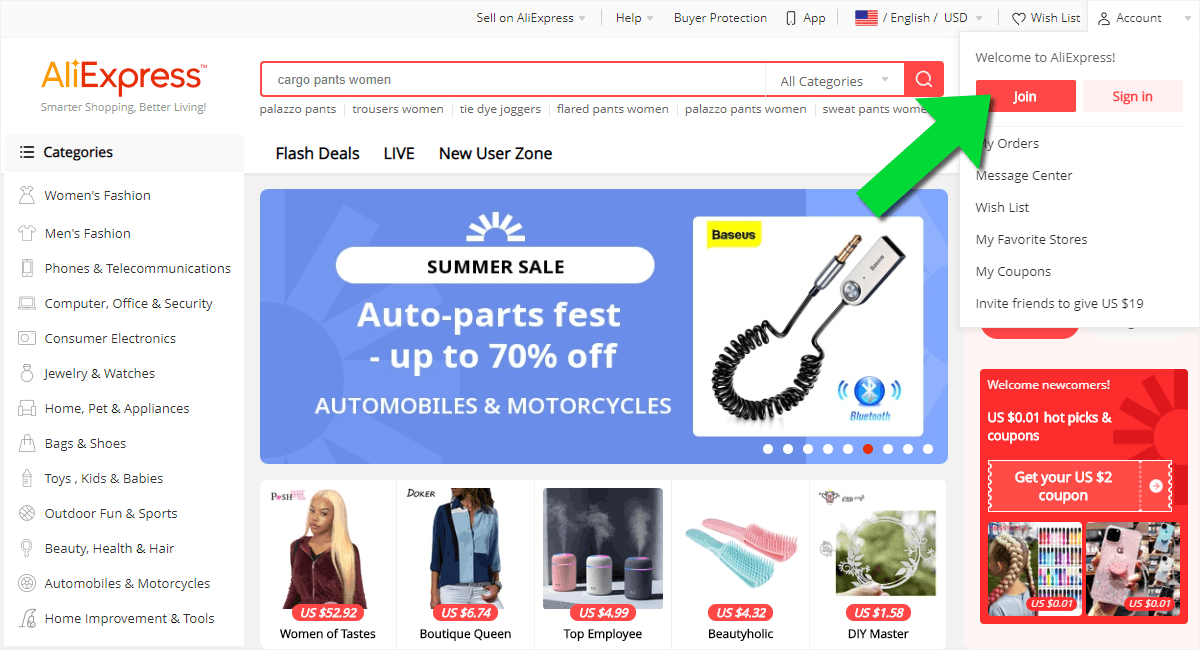 Site navigation is very simple, you can search by product name or select a category, product brand. You can filter products by different criteria, search for similar products, add the product to your favorites. It will not be difficult for you to find a product if you know what you want. Try it, it is very simple.
How to choose a product from a reliable seller on AliExpress?
You can find identical products from different sellers on the site. The prices of the same product from all sellers usually do not differ. In order to decide who to buy goods from, we advise you to follow these tips: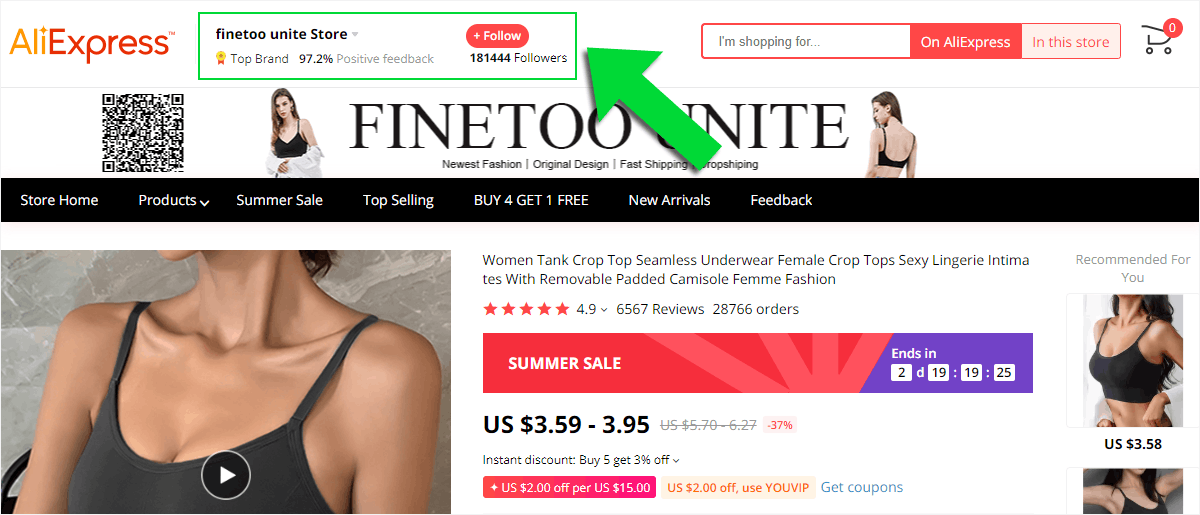 Brand (Seller) Reliability. Each seller has a rating (brand reliability), measured as a percentage from 0 to 100, the higher the rating, the bigger the chance that you will not face any problem when buying.
Number of subscribers. This is one of the factors that you have to pay attention to when choosing a product. The more subscribers, the more reliable the seller is.
Free shipping. Compare prices and find out whether delivery is included in the price of the product. Some sellers make paid delivery and then the price for the product will increase.
Extra discount. If you buy several products, then pay attention to the additional discount, which depends on the quantity of goods ordered. You can save a lot of money if you choose a seller who makes a discount on several products.
Estimated delivery time. Compare delivery times from different sellers. The time depends on the country where the warehouse is located relative to your location. The closer the warehouse, the faster the goods will be delivered to you.
Product rating. It is very important to compare products by rating. After purchasing a product, it can be evaluated using a five-point system and attach a photo of the received product. The higher the rating, the more reliable the seller.
Product reviews. One of the important factors for choosing this seller. If there are few reviews, and they are not positive or the product on photos differs from the description, we advise you to choose another seller.
Following these tips, you can be sure that the product will be of proper quality and will be delivered on time. We also advise you to contact the sellers directly if you have any questions about the product. Usually sellers are good at getting in touch and will be happy to answer your questions.
Unfriendly sellers tricks on AliExpress
AliExpress resembles a large market, there are many sellers in it who produce goods themselves, but there are also sellers who resell goods with a small margin. To stand out from all the sellers-manufacturers, they have to invent ways to mislead customers and convince them to buy goods from them. Let's highlight the important tricks of sellers that you need to pay attention to.
Reviews in the product description. The reviews section is at the bottom of the product. The seller cannot change user reviews, but can write text or post pictures in the product description. Some unfriendly sellers imitate user reviews in the description.
Similar names to a well-known brand. It is clear that this manipulation is designed for an inattentive buyer. Be vigilant, check what you buy.
Product description does not match the product photos. If you have any doubts related to the product description, we recommend that you view the product reviews section with photos. Compare the description with photos from buyers who have already bought this product.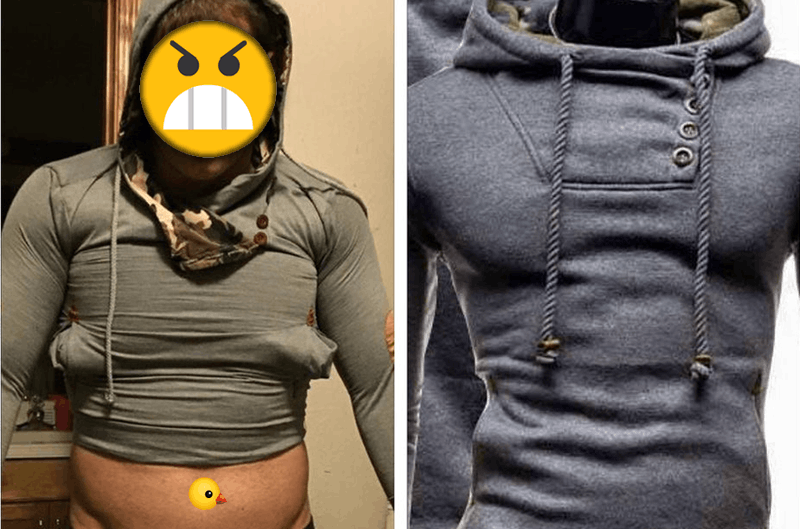 How to save on AliExpress?
Products on the AliExpress website have a low cost and are sold directly from the manufacturer to the buyer without extra charges. But even on AliExpress, you can still save some money.
Seasonal discounts. Usually promotions are held at the beginning of the season, when the product from the previous season is sold out with a discount of up to 50%;
Black Friday. On the last Friday of November, all stores on AliExpress reduce prices for their products. Don't miss your chance to buy a long-awaited product with a discount;
Christmas discounts. On the eve of Christmas and the New Year, you have the opportunity to buy gifts for your family at a discount;
Promotional codes. The promotional code provides a discount on the product upon purchase. To get a discount, you must enter a promotional code at the time of payment for the goods. The promotional code is limited in time, make sure that it is not expired.
Coupons. Coupons are provided by the store when buying several products or when buying for a certain amount. Coupons are limited in time.
Flash Deals. These are promotions for a short period of time. For example, a seller can sell a product at a discount for 12 hours and after this time the price will be the same.
Mobile application. AliExpress offers special discounts for purchases through its mobile application. To do this, you need to install The AliExpress Application for iOs or AliExpress for Android.
Discount for the purchase of several products. The store provides a discount for purchasing several samples of the same product.
What type of delivery to choose for a parcel from AliExpress?
The main advantage of AliExpress is free shipping. It is difficult to find an item where this type of delivery is not available. Usually free delivery takes longer than paid delivery. You should decide for yourself whether you prefer fast delivery for extra money or free delivery for a longer period of time. If you are buying a product for a gift and you know that the gift will be needed by a certain date, we advise you to pay extra for delivery and choose a trusted carrier. AliExpress cooperates with such well-known carriers as DHL, TNT, UPS, FedEx. Parcel from Aliexpress can be tracked on our website Post Track.
How to return money for goods from AliExpress ?
You have been waiting for an item for more than 60 days or you received an item that does not match the description, or the item was damaged during transportation. It is clear that you are not happy and want to return the money or get a new product.
The dispute is possible in the following cases:
The product was not received during the guaranteed period;
The item was received but damaged;
The product was received but does not match the description.
AliExpress provides buyer protection and helps you get a refund or get a new product. AliExpress offers to perform the following actions:
Go to the AliExpress account. Contact the seller, describe your situation, and try to solve the problem.
If you have not agreed with the seller to return the money or send a new product, you must open a dispute.
Your dispute will be considered and within 15 days the money will have to be returned to your account or a new product will be sent. If this does not happen, you must contact AliExpress.