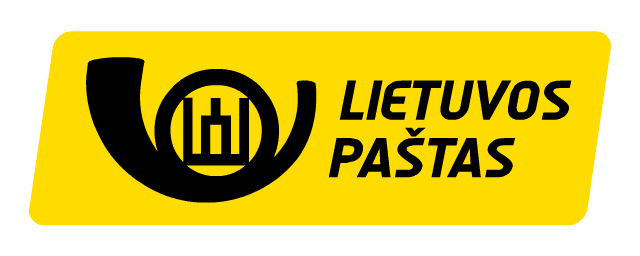 Lietuvos Paštas (Lithuania Post) is the Lithuanian postal operator that runs more than 500 post offices, apart from mobile postal service locations. The first regular postal routes from Vilnius to Krakow and Vienna were established in Lithuania in the 16 century. At that time letters from the Lithuanian capital were delivered to Krakow in 7 days. In its present-day form, Lietuvos paštas was established in 1990. The company provides not only postal services, but also assist in solving logistics issues, and provides payment solutions.
The Lithuanian post delivers letters, postcards, aerogrames (brief messages without envelopes sent by airmail), parcels, etc. Lietuvos paštas provides courier delivery, that will bring your spendings to a recipient within 24 hours. This postal operator accepts almost 3,000 payments. The payments are accepted in more than 700 post offices all over the state. You may also transfer money via the Lithuanian post. The money order will be fulfilled in several minutes, it can be delivered to a certain address. Money can be also sent to a bank account.
In Lithuanian post offices, you may buy tickets for international routes to 16 countries, including more than 100 European cities. Lietuvos paštas buys silver and gold items from people. If you don't need a gold or silver article, you should come to a post office, sigh a special contract, placed the articles into a special envelope and hand it to post employees. The payment will be sent to your bank account within the 24 hours.
On our site PostTrack.com, you can track your spendings being delivered by Lietuvos paštas. Enter the tracking number of your letter or parcel and press on the Track button.
The tracking number, also known as the track number, is a unique identifier assigned to a shipment by the shipping service. With this number, you can easily track and locate your parcel at any time. Our platform supports bulk shipment tracking, allowing you to enter multiple tracking numbers to locate several parcels at once.
FAQ - Lietuvos Paštas (Lithuania Post)
The estimated time of delivery for Lietuvos Paštas (Lithuania Post)
A table on the delivery time of packages depending on the country of destination. Statistics generated for Lietuvos Paštas (Lithuania Post) packages with the status of Delivered
United States of America

~ 19 Days

Germany

~ 8 Days

Lithuania

~ 7 Days

Netherlands

~ 9 Days

United Kingdom of Great Britain and Northern Ireland

~ 14 Days

France

~ 9 Days

Italy

~ 13 Days

Norway

~ 5 Days

Spain

~ 14 Days

Serbia

~ 11 Days

Poland

~ 11 Days

Latvia

~ 8 Days

Denmark

~ 7 Days

Ireland

~ 13 Days

Belgium

~ 9 Days

Austria

~ 8 Days

Canada

~ 16 Days

Romania

~ 13 Days

Sweden

~ 8 Days

Portugal

~ 14 Days

Australia

~ 22 Days

Cyprus

~ 19 Days

Finland

~ 12 Days

Israel

~ 28 Days

Ukraine

~ 18 Days

Korea (Republic of)

~ 14 Days

Switzerland

~ 11 Days

Albania

~ 3 Days

Montenegro

~ 6 Days

Russian Federation

~ 21 Days

Slovakia

~ 4 Days

Belarus

~ 11 Days

China

~ 25 Days

Greece

~ 21 Days

Japan

~ 12 Days

Hong Kong

~ 13 Days

Slovenia

~ 14 Days

Indonesia

~ 27 Days

Mexico

~ 24 Days

Singapore

~ 14 Days

Czechia

~ 9 Days

Bulgaria

~ 18 Days

India

~ 17 Days

Bosnia and Herzegovina

~ 11 Days

New Zealand

~ 26 Days

Thailand

~ 10 Days

Malaysia

~ 17 Days