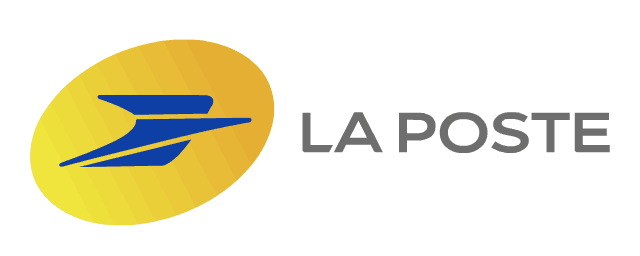 The first postal services were available in France yet in the 16 century. For many years delivering mail in that country was mostly a private business. Only after the French revolution postal delivery became a public service. In its present-day form La Poste appeared in 1991, it is the largest mail delivery provider in France. la Poste closely cooperates with the postal operators of Monaco, Andorra, and Sweden.
Apart from mail and parcel delivery, La Poste provides mobile telephony services, courier delivery, insurance, and banking facilities. However, delivering correspondence remains the company's major activity. Sending parcels, and e-commerce logistics are responsible for about 20% of the company's revenues. !!! Like other leading postal operators, La Poste investigates and introduces digital services, like Digipost - an electronic safe to keep e-documents. A package of other important online services including e-signature, electronic invoices and maintaining digital archives are available on a special online platform launched by the La Post company. You can send and receive e-registered mail via la Poste's mobile application.
La Poste also offers several unusual services, like "Veiller sur mes parents" ("Watch over my parents"). The service envisages regular visits of postmen and a helpline available 24/7. Postal employee also inform the relatives of their elderly client about their health and life conditions. This helps the elderly people remain self-sufficient. The postal operator also invested in creating a special tablet computer to be used by old people.
On our site PostTrack.com, you can follow your sending being transported by La Poste. Enter the tracking number of your letter or parcel in the field below and press Track.
The tracking number, also known as the tracking number, is a unique identifier assigned to a shipment by the shipping service. With this number, you can easily track and locate your parcel anytime. Our platform supports bulk shipment tracking, allowing you to enter multiple tracking numbers to find several parcels simultaneously.
FAQ - La Poste (France Post)
The estimated time of delivery for La Poste (France Post)
A table on the delivery time of packages depending on the country of destination. Statistics generated for La Poste (France Post) packages with the status of Delivered
France

~ 16 Days

United States of America

~ 9 Days

Germany

~ 6 Days

United Kingdom of Great Britain and Northern Ireland

~ 7 Days

Italy

~ 7 Days

Algeria

~ 22 Days

Belgium

~ 5 Days

Netherlands

~ 7 Days

China

~ 21 Days

Poland

~ 7 Days

Canada

~ 8 Days

Switzerland

~ 8 Days

Japan

~ 10 Days

Spain

~ 8 Days

Australia

~ 13 Days

Ireland

~ 7 Days

Hong Kong

~ 13 Days

Portugal

~ 10 Days

Morocco

~ 16 Days

Romania

~ 13 Days

United Arab Emirates

~ 7 Days

Hungary

~ 10 Days

Korea (Republic of)

~ 9 Days

Greece

~ 16 Days

Turkey

~ 15 Days

Austria

~ 7 Days

Sweden

~ 8 Days

Lithuania

~ 11 Days

Czechia

~ 10 Days

Finland

~ 12 Days

Denmark

~ 7 Days

Thailand

~ 10 Days

Slovakia

~ 9 Days

Luxembourg

~ 4 Days

Singapore

~ 10 Days

Bulgaria

~ 14 Days

Latvia

~ 12 Days

Mexico

~ 17 Days

Ukraine

~ 18 Days

India

~ 16 Days

Brazil

~ 18 Days

Viet Nam

~ 14 Days

Qatar

~ 14 Days

Malaysia

~ 13 Days

Russian Federation

~ 21 Days

Cyprus

~ 4 Days

Belarus

~ 30 Days

Côte d'Ivoire

~ 18 Days

Saudi Arabia

~ 11 Days

Croatia

~ 10 Days

Taiwan, Province of China

~ 24 Days

Réunion

~ 13 Days

New Zealand

~ 19 Days

Colombia

~ 31 Days

Pakistan

~ 21 Days

Israel

~ 23 Days

Armenia

~ 20 Days

Slovenia

~ 10 Days

Malta

~ 16 Days

Tunisia

~ 10 Days

Martinique

~ 18 Days

Indonesia

~ 16 Days

Norway

~ 17 Days

Iran (Islamic Republic of)

~ 22 Days

Estonia

~ 9 Days

Mali

~ 38 Days

South Africa

~ 20 Days