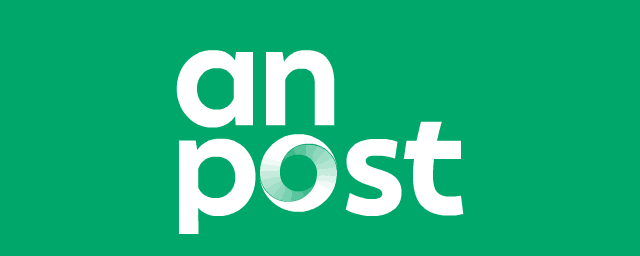 An Post (Ireland Post) is Ireland's national postal operator with headquarters in Dublin. It is a public limited company which is run by the government of the country.
Ireland Post provides services such as sending parcels, delivering parcels by courier, sending EMS items worldwide, deposit accounts, "Express Post" delivery service. Postal service provides the biggest percent of incomes and make this state postal company one of the most demanded.
The history of the An Post dates back to 1984, when state postal and telegraph services were separated from each other and became two equal divisions of the provided state services. Since then, the post office of Ireland has been actively developing, introducing the latest innovations in its work, and actively using the achievements of modern scientific progress. This allows you to make the process of registration and delivery of the package fast and convenient for each client.
The post stamps of Irish Post company are a whole discovery for philatelists. They have not only an interesting design, but are quite rare. That is why the price of some stamps can be really high. Collectible stamps can be purchased at the main post office in Dublin, or you can order delivery to another branch in any corner of the country. As a rule, commemorative stamps are sold throughout the year from the date of issue. It is worth noting that previously only 4 or 5 collection stamps a year appeared. This was due to the conservatism of Irish politics. Then, the amount was increased tenfold, as the government noticed that it was truly profitable. From that times Irish stamps become a real art for philatelists throughout the world.
If you are looking for the quick and convenient way of tracking the parcel, it will be better to use our website PostTrack.com. Our service will help you to save time and know where your delivery is.
The tracking number, also known as the track number, is a unique identifier assigned to a shipment by the shipping service. With this number, you can easily track and locate your parcel at any time. Our platform supports bulk shipment tracking, allowing you to enter multiple tracking numbers to locate several parcels at once.
FAQ - An Post (Ireland Post)
The estimated time of delivery for An Post (Ireland Post)
A table on the delivery time of packages depending on the country of destination. Statistics generated for An Post (Ireland Post) packages with the status of Delivered
Ukraine

~ 24 Days

Ireland

~ 10 Days

United Kingdom of Great Britain and Northern Ireland

~ 5 Days

United States of America

~ 9 Days

Romania

~ 26 Days

Germany

~ 9 Days

Italy

~ 15 Days

France

~ 9 Days

Netherlands

~ 10 Days

Spain

~ 15 Days

China

~ 28 Days

Poland

~ 13 Days

Canada

~ 11 Days

Egypt

~ 28 Days

Sweden

~ 13 Days

Australia

~ 16 Days

Switzerland

~ 14 Days